Rubbish Removal East Ham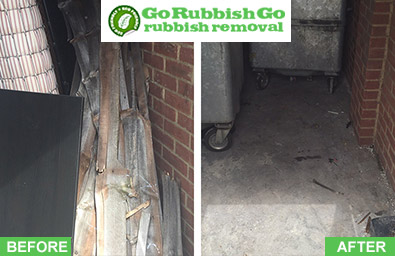 Did you know that when you have stacks of rubbish lying around in your property, it can prevent you from using a great deal of your space?
Let's be honest, who wants to lose space in this day and age? Not many people. Most of us want to have more space at our disposal. That is why you should seriously think about tidying up that rubbish to free up some space. If you can't do it for any reason, be sure to contact us for professional rubbish removal in East Ham. Before we say any more, we want to tell you that whenever you need a rubbish disposal E6, you can turn to us and we'll be right there for you anytime. Call 020 8610 9182 now if you want a free quote!
Book Cheap Rubbish Clearance Service in E6
You won't find better deals elsewhere so if rubbish removal is what you need hire Go Rubbish Go now for the best services available at the most affordable prices. We are aware that most people today are looking for a bargain, which is exactly what we will offer you. Our E6 waste clearance service is excellent value for money and you get more than what you pay for when you book our team. You'll get top-quality East Ham waste collection services at the best prices in the region. There's no need for you to be concerned over the prices because we can assure you that we never charge over the odds.
Why Should You Make Our East Ham Rubbish Removal Service Your First Choice?
Because we make everything easy, straightforward and hassle free for you, that's why! So the next time you need help shifting waste, let us be the company to provide you with professional waste disposal services and we can assure you that you won't be dissatisfied with our service. Rubbish clearance in East Ham, E6 is far from a piece of cake. It does indeed drain you of time, energy and money, but we can sort it all out for you if you give us a chance. You won't believe the benefits booking with us will bring you. Leave this time consuming chore to us – call 020 8610 9182 today for more information.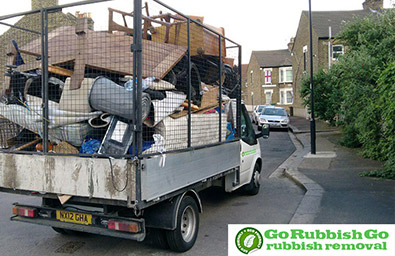 Testimonials
My mum needed a hand with waste removal at her home in East Ham, so I did some research and came across this firm. They sounded pretty reliable and their prices were the lowest in E6, so I contacted them and very soon they were on the job. They did all the work very professionally. Commendable service all the way!

Hire Our E6 Waste Clearance Service Now For the Best Prices and Discounts!
There are lots of reasons why using a professional waste removal team in E6 is a wise idea. You see, most people today have so much going on in their lives. It can be hard to deal with everything when you are under so much pressure and don't have any spare time. There is nothing to be ashamed of in hiring a professional East Ham waste disposal company, so don't feel bad about doing it even for a minute. Many people hire our rubbish removal services and most of the times, it's for good reason.
List of services we provide in East Ham, E6:
Household Rubbish Clearance East Ham, E6
Commercial Rubbish Disposal East Ham, E6
Garage Clearance East Ham, E6
Garden Rubbish Removal East Ham, E6
Electronic Waste Collection East Ham, E6
Building Waste Removal East Ham, E6
Let Our East Ham Rubbish Removal Team Save You Time And Efforts!
Clearing rubbish is such a time consuming job that it's completely understandable why people hire professional rubbish removal companies, like us, to assist them. It's actually a wise idea. Whether you've had a home renovation and now you have old fridges, mattresses and other used things that need chucking away, or maybe you've just had a clear out and want to dispose of the waste, Go Rubbish Go can help. And we'll make sure that we do it at the best prices around! So get in touch now on 020 8610 9182 if you would like quality waste removal East Ham, E6 and you will receive a free estimate.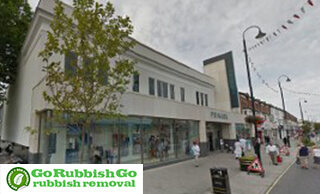 Explore East Ham and Its Vicinity
Found in the Borough of Newham, East London, East Ham is a densely built-up suburban area about 8 miles away from Charing Cross and home to over 76 000 residents. East Ham railway station opened in 1859 and as a result the area experienced rapid urbanisation, thus turning from a small village into the densely populated suburb it is today. Local housing consists mainly of Edwardian and Victorian terraced properties and East Ham is home to a multi-ethnic community with many residents of African, Caribbean, East European and South Asian descent. Many restaurants and stores that specialise in ethnic cuisine can be found in the area. East Ham borders a number of green spaces, like Plashet Park, Central Park and Priory Park.