Rubbish Removal Elm Park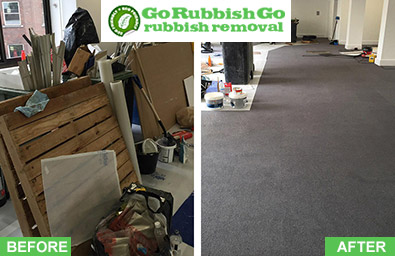 If you have just had a new kitchen put in or a bathroom renovation or basically any sort of practice that leaves behind a lot of mess and waste, think about using our professional and reliable rubbish removal service!
You are guaranteed top-quality RM12 waste collection services at inexpensive prices, carried out by the most efficient team of workers you will meet in your life. There is no doubt about it; if you need waste clearance in Elm Park, Go Rubbish Go is the company to opt for as we have been around for quite a long time. We believe that it is exactly that experience that makes us stand out from the crowd, so do give us a chance and we will prove to you that we are the best company around. Call 020 8610 9182 now to find out further details. You will also get a free quote!
Book Cheap Rubbish Clearance Service in RM12
Not only will you receive the best-quality Elm Park waste disposal service you could ever possibly ask for, you will also save a huge amount of time and money. So do something more enjoyable with your time instead of clearing up rubbish and disposing of it properly. You see, you need to know what you are doing or else you may get fined. The safer and far easier option would be to book our affordable service. We've been around long enough to know a fair deal about the rubbish removal business, so trust us and we will get the job done well. Call 020 8610 9182 today for a free estimate! We offer the lowest prices locally so you won't be disappointed!
Why Should You Use Our RM12 Rubbish Disposal Service And Not DIY?
DIY work comes with a host of disadvantages. Most of the times, when people 'DIY', a lot of problems arise as a result, leaving your situation worse than ever. It can end up costing you even more money. Instead of DIY, take advantage of our rubbish clearance deals in Elm Park and we promise you won't be disappointed with our services. They are far better than DIY. If you need expert help, we would like to reassure you that you have us to depend on 100%. Go Rubbish Go will be always there for you if and when you need a little helping hand with Elm Park rubbish removal at your property. Whether domestic or commercial, we cater for all your needs.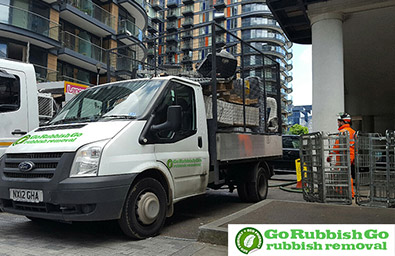 Testimonials
Glad I turned to Go Rubbish Go for assistance with waste disposal in Elm Park as I don't believe any other company in RM12 would have done a better or faster job. Keep up the great work!

You Too Can Enjoy The Benefits Of Hiring A Professional Waste Clearance Company in Elm Park
A host of benefits come with booking with us for RM12 waste removal in so whenever you need help removing rubbish, we are there to oblige. We can be your knight in shining armour if you want us to. Get in touch with our office if you are seeking professional help and we will do everything we can within our means to help you as much as possible. You can't do it all alone. Most people don't have much spare time and that is what you need most when carrying out waste removal. We will save you many hours of hard work and energy. Furthermore, you will have an incredible team of Elm Park rubbish disposal experts to help you every step of the way. So call 020 8610 9182 now and book a date if help is what you need. And then help will, indeed, be on its way.
List of services we provide in Elm Park, RM12:
Household Rubbish Clearance Elm Park, RM12
Commercial Rubbish Disposal Elm Park, RM12
Garage Clearance Elm Park, RM12
Garden Rubbish Removal Elm Park, RM12
Electronic Waste Collection Elm Park, RM12
Building Waste Removal Elm Park, RM12
We Are The Rubbish Disposal Company in RM12, Elm Park To Book – Here's Why
When you have had a home renovation or an office clear-out, we are the company to choose. So why, you may ask, is that? Waste removal is no walk in the park. It takes time, experience, effort and a great amount of patience to do it. You also need to make sure you have all the right documents and permits; otherwise you are just going to be messing around wasting time. Nobody has time to waste and that is exactly why hiring us for your rubbish clearance in Elm Park, RM12 is a fantastic idea.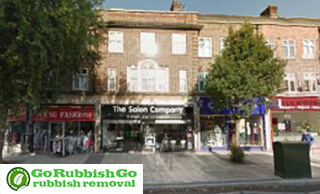 The Green Suburb of Elm Park
A suburban area in the Borough of Havering in East London, Elm Park is a part of Hornchurch and there are plans in place for the area's regeneration. The area was mostly rural until the 1930s, when the Elm Park Garden City was constructed. There were further plans for housing development in Elm Park in the following decade, but they were interrupted by WWII. The nearby Harrow Lodge Park, Brettons Park, Eastbrookend Country Park and Hornchurch Country Park provide opportunities for leisure and exploring nature while Elm Park underground station and a few bus routes cater for the transportation needs of the locals. Romford, Rainham, Hornchurch and Dagenham are all located close by.