Rubbish Removal Elmers End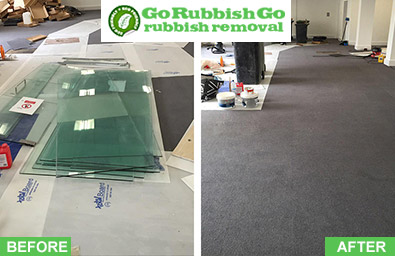 A kitchen clear-out, bathroom renovation or overall clear out leaves you with one thing: rubbish.
And there's a lot of waste you can't just throw in the bin. It has to be disposed of properly. Although you may be put off as soon as we mention using a rubbish removal service in Elmers End, because you instantly think expense, we want to tell you one thing. We offer the most inexpensive services in the area. If you want it all gone in an instant and don't have time to do it yourself, let Go Rubbish Go help you and be prepared to be blown away by our incredible services. We're not saying you aren't capable of handling Elmers End rubbish clearance yourself. All we are saying is that it is a great deal of hard work and not to mention it's so time-consuming. We'd just like to simplify it all a bit for you. So call 020 8610 9182 today if you want a consultation and a free quote!
Book Cheap Rubbish Clearance Service in BR3
Put your hand up if you are looking for inexpensive, high-quality rubbish removal in Elmers End! Now, there is a high chance nearly all of you will have your hands raised. That is because we are all looking for a bargain. But we struggle, most of the time, to find good quality services at reasonable prices that we can actually afford. The thing is, we want to be accessible to our customers and we believe this motto has made Go Rubbish Go one of the most thriving companies in the BR3 region. If you need waste disposal, you will find the most cost-effective services here with us and you won't have to compromise on the quality of service either. Honestly, it really doesn't get better than that! Get in touch with our office now on 020 8610 9182 for a full price list of our waste collection services.
Why Will You Not Regret Using Our BR3 Rubbish Removal Service?
It is very unlikely indeed that you will be let down by our services. We constantly impress our clients with our amazing waste clearance Elmers End. And we are confident you will be impressed too. There is so much stress involved with rubbish removal and there is so much to think about. If you want a straightforward procedure, let us help you. We will be absolutely thrilled to do it for you. And did we mention that you will also get a free estimate? Our advisors are easy to talk to and they will assist you with any query you may have. You won't regret using our services because they are the best in town.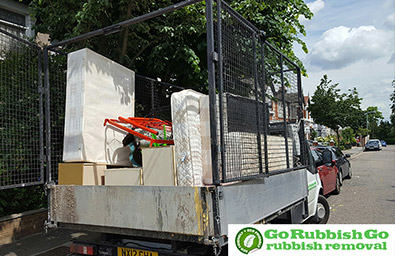 Testimonials
I was having some refurbishment done at my master bedroom and bathroom in BR3 and the results were pretty nice. The only problem was the heap of builders waste and old fittings in my back yard. I hired this firm to take care of it and, I must say, their waste clearance services for Elmers End are pretty impressive. Very swift and efficient!

What Makes Our Incredible Rubbish Disposal BR3 Team So Popular?
Each and every member of our rubbish removal team is efficient, flexible, careful, helpful and hard working to say the very least. In other words, you can count on them 100% whenever you would like expert services. So if you need Elmers End waste collection assistance, book our team and we promise we won't let you down. Our team is so friendly and hard-working you would really struggle to find a more amazing team in the BR3 district. When they carry out every service, they do it with utter professionalism. They are all well trained and qualified, as well as experienced, which is why they are so great at BR3 rubbish disposal!
List of services we provide in Elmers End, BR3:
Household Rubbish Clearance Elmers End, BR3
Commercial Rubbish Disposal Elmers End, BR3
Garage Clearance Elmers End, BR3
Garden Rubbish Removal Elmers End, BR3
Electronic Waste Collection Elmers End, BR3
Building Waste Removal Elmers End, BR3
Our Waste Collection in Elmers End, BR3 Is Completely Eco-Friendly
If each and every one of us was more environmentally conscious, if we just altered our actions slightly, just think about the amazing difference it would make to the planet. The Earth would be far healthier. You have the power to help the Earth just by doing small things like recycling, for instance. That can make a huge difference. We have always believed in that, which is why every waste removal in Elmers End, BR3 is eco-friendly. We use green products and equipment and we also try to recycle as much as possible. Everything we do benefits the Earth and your health too. Furthermore, by being eco-friendly, you are also saving money. Any rubbish you send our way gets disposed of in the greenest way possible. Call now on 020 8610 9182 to find out more about our nature-friendly waste disposal BR3 services!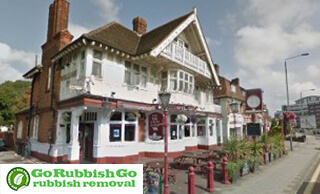 Enjoy the Quiet Life in Elmers End
Elmers End is situated in the south-east part of London, in the Borough of Bromley and for the most part falls within Beckenham. Bromley is to the northeast and the Borough of Croydon – to the west of this rather tranquil suburb. The centre of the area is occupied by a green space surrounded by a roundabout and the site of the former sewage farm has now been turned into South Norwood Country Park, which is a Local Nature reserve and consists of a combination of parkland and countryside. Elmers End station offers both railway and Tramlink services. Some of the nearby places are Anerley, Beckenham, Park Langley and Eden Park.