Rubbish Removal Cubitt Town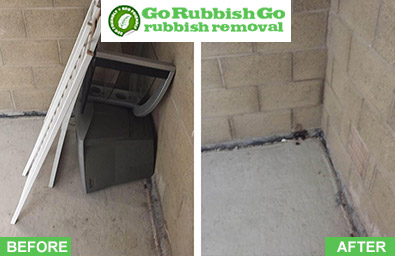 Looking for a solution to your waste problems? Then get in touch with Go Rubbish Go now!
We offer an outstanding selection of professional Cubitt Town rubbish removal services in the E14 area. With state of the art equipment and competitive, local rates you'd be crazy to miss out! Our packages include regular services, one-off clear- outs and waste removal in E14. So if you have old appliances, computers or old furniture which you need to get rid of, we have the perfect deal for you. All of our packages can be tailored to meet your specific needs and offer an outstanding service every day of the year!
Book Cheap Rubbish Clearance Service in E14
We also offer a great range of affordable E14, Cubitt Town waste collection solutions throughout the area. With a proven track record and competitive prices, we can manage all sorts of waste with ease. So if you have old furniture, excess cardboard or electrical items which you need help with, call us on 020 8610 9182 today! Our dedicated team can give you a personalised quote in just a matter of minutes, giving you one less thing to worry about in your day. Our experts are professional and efficient workers who can support you with all sorts of Cubitt Town rubbish removal needs. Book now and take advantage of one of or lucrative discounts!
Reasons You Should Choose Us for Cubitt Town Rubbish Disposal
There are many reasons why we think that you should choose us. However, the three things that make us stand out from the competition are: our professional workers, state of the art E14 rubbish removal equipment & facilities, and our wide range of packages. In addition to this, we can also offer tailored out of hours services for commercial outlets, along with flexible solutions for your household waste problems. So if you want to hire the best waste clearance Cubitt Town company in the local area, make sure you talk to one of our experts. Our award-winning team can get results overnight, freeing your home or office from any unwanted, waste, furniture or junk. Book now on 020 8610 9182 to get the best deal!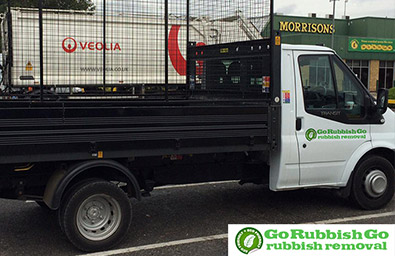 Testimonials
My attic in Cubitt Town was full to the brim with old furniture and junk I didn't need any more. I wanted to clear it out so that I could use it as a spare room and so I turned to this firm for a rubbish disposal service in E14. I'm glad I decided to hire them as they were not only extremely skilled and professional, but quite affordable too.

Waste Collection in E14 with the Customer in Mind
We can dispose of any type of rubbish no matter the scale of the job. If you have hazardous or bulky waste which you need to dispose of then don't take it on by yourself. Many recycling centres and council services do not have the facilities to dispose of hazardous waste safely, leaving the local community and environment at serious risk. We can collect and dispose of all sorts of items, including electrical products, white goods and furniture. For more information on rubbish removal in E14, speak to one of our advisors. Our customer services team are knowledgeable about all of our Cubitt Town, E14 rubbish clearance services and can offer you clear and concise information any day of the week. Call now on 020 8610 9182 to find out more or get a free estimate!
List of services we provide in Cubitt Town, E14:
Household Rubbish Clearance Cubitt Town, E14
Commercial Rubbish Disposal Cubitt Town, E14
Garage Clearance Cubitt Town, E14
Garden Rubbish Removal Cubitt Town, E14
Electronic Waste Collection Cubitt Town, E14
Building Waste Removal Cubitt Town, E14
Our Nature-friendly Approach To Waste Disposal in Cubitt Town
One number business goal is to keep our carbon footprint down and to achieve this we always make sure that we adhere to the following: keep our recycling levels high and keep excess waste to a minimum, keep our mileage down and our emissions to a minimum, make sure our Cubitt Town waste disposal team are fully-trained and know how to adhere to our eco-friendly principles. By sticking to these goals, Go Rubbish Go can make sure that we are doing our bit for the local environment, building a better future for you and your family! Waste removal in Cubitt Town has just become much easier and greener!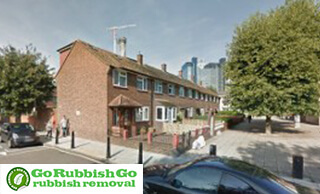 A Few Facts about Cubitt Town
Cubitt Town is a district in the London Borough of Tower Hamlets. It is home to many open spaces and green expanses such as St John's Park, Island Gardens and Millwall Park. In the area you can see the largest urban farm in Europe – Mudchute Park and Farm. The area is named after William Cubitt who was responsible for the rapid development of Cubbit Town. The E14 area has been a home for a number of shipbuilders such as Yarrow Shipbuilders, Westwood and Samuda Brothers. Island Gardens and Crossharbour are the two nearest DLR stations. Neighbouring areas are Millwall, Canary Wharf and Blackwall.